Products
At North Bay Technical, we offer the largest selection of machines, tools and materials that offer the highest quality at the lowest price possible. Not only do we believe that the construction techniques and materials used in our products are the best you can get, we are sure they will last longer than anything else on the market.
Low-cost, Compact Auto-Tool-Change Machine features extremely high accuracy and repeatability. Comes standard with camera monitoring system. Automatic Tool change is all electric, requiring no air compressor. Working area : 230mm x 310mm

New Model! Low-cost, 9" x 12" work are, XYZ 3-axes control, high resolution, Complete with 30x camera monitoring system. Our newest model with upgraded functionality while maintaining low pricing. Suitable for processing 0.010" - 0.250" substrate boards.  Complete systems starting at under $9,990.
Working area : 230mm x 320mm
Professsional equipment for laboratory prototyping of through-hole plated PCBs up to 210 x 300 mm size. Clean system including built-in rinsing compartment. Maintenance free and made for easy processing and handling. This particular machine type is optimized in terms of space requirements annd costs. Compacta 30 is suitable for the Dexter 3 D process (known on the market as the ABC chemical system). Bigger and customized units are also available
Desktop type with full 3-axis, 5 phase stepper motor control system. Equipped with high speed & high power spindle motor. Air-floatation non-contact pressure foot option is available for the 21THP. This is the ideal system for High-Frequency Circuitry, Teflon and exotic board materials, Flexible Films, and Metal core PCB material.

Working area : 350mm x 250mm

50µm (2mil) line and space, the state of the art! Low vibration, high rigidity and with specially selected spindle motor. Stepping method (three dimensional regulation) and non-contacting pressure foot (HP type) lead to the fine processing technology.

Working area : 150mm x 150mm
Case Study: MITS "Precision" at University of Belgrade
The 'Ultra' Series of carbide tools from North Bay Technical delivers extended tool life at very competitive pricing.  Have a unique application?  Give us a call and discuss your requirements.  Expert advice is always at hand and your orders are shipped promptly.
Need some single sided FR-4 with 0.005" Substrate?  How about some unclad FR-4?  It's usually in stock at North Bay Technical.  More sizes, more copper weights...all you have to do is call -
415-258-9999.
You will find more drills at lower prices at North Bay Technical.  Need an odd size?  Need only 1 or 2 pieces?  No need to order more than you need from NBT.  Call us now to order or if you have any pre-purchase questions at 415-258-9999.
  (Pictured - Drl-0059)

Most of our solid carbide routers are downcut routers. Your FR4 edges are smoother and cleaner when using the proper feed rates. Please call us to order or if you have any pre-purchase questions at 415-258-9999.
Measure with precision optics.  Loupes and Microscopes in stock.  Please call us to order or if you have any pre-purchase questions at 415-258-9999.
Standard package of tools and materials gives you everything you need to make up to 24 -6" x 6" prototype pcb's


MD-R330 Tabletop IR+Convection Reflow Oven 280mm x 860mm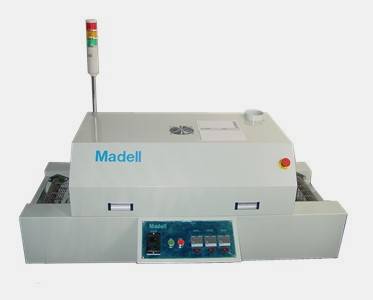 Three top heating zones. Max. PCB width 280mm, power consumption 5KW, IR+convection(IR generated hot air).
Easy to operate, small but can make excellent PCB's.  Through put 5-8 minutes.
This is a very simple to use yet reliable and easy to maintain reflow oven. It can be used for regular SMT parts as well as BGA's. No computer connection. Everything is controlled on the front panel: 3 zone temperatures and conveyor speed all can be adjusted separately.

$3495.00


DP2006-2 Features
Automatic, semi-automatic or manual selection
Windows based control software, user friendly interface
Single axis precision 0.002"
Working area 14"x17", weight 45 pounds. Other sizes can be customer ordered.
QK982B dispensing controller included
Computer, computer monitor and video monitor not included.
Automatic pick and place package includes: one down looking teaching video camera, one up looking bottom view camera, computer vision hardware and software; Max. feeder capacity: 50 8mm SX feeders; Standard machine equipped with stepper motors on all axis.
Semi-automatic package includes two USB video cameras
Pick and place machine (automatic or semi-automatic) comes with 10 SX feeders.
Call for lead time
Options: Computer, Additional up looking cameras, Automatic nozzle changer, More feeders
The new designed DP2006 has a light weight, precise and fast XYZ movement base, driven by stepper motors. Different tools can be mounted on it conveniently. Options include: dispenser, pick and place, PCB routing, hot air gun, etc.

Pick and Place Operations:
The pick and place operations are the same as our other pick and place machines if computer vision is equipped.
For semi-automatic configuration, the pick up location is checked and confirmed through the video camera. The part can be placed directly on the PCB automatically, or go through the up looking camera for precision alignment.
With manual feeders: the machine sequentially picks up taped parts from the manual feeder. The tape needs to be manually pulled forward for every 20 to 30 parts. IC's need to be placed on flat manual feeders, pushed into a corner for positioning before they are picked up. 

Programming:
Pick and place operation can be programmed by the teaching camera, CAD file conversion, or directly moving and placing the part to a position. Paste dispensing is programmable, on the computer with GERBER based graphic interface. Click on the computer screen to set the initial position. Fine adjustments are done at testing runs.

Automatic feeders, taped or stick, can also be purchased and mounted on the DP2006-2 machine.

Please note that stencil printing is much faster and more suitable for fine pitch components.